Download free the Best Android App for Hanuman Chalisa (Devotional Apps)

Hanuman Chalisa Android App is based on the devotional song based on Lord Hanuman as the model devotee of Lord Ram. This android app features the poem written by Tulsidas in the Awadhi language. This free android app of Hanuman Chalisa can be read in English,Hindi and Gujrathi. The user can also keep track of how many times he has read Hanuman Chalisa using this android app on their android mobile.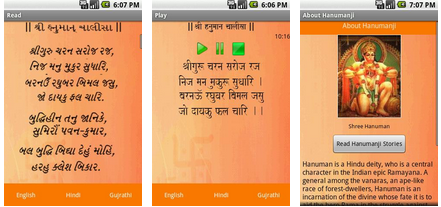 This free android app is last updated on May 09, 2011 and the latest version is 1.0.0.4 which requires ANDROID 1.5 and up. This is currently featured in Android market under Entertainment android apps and already has 10,000 – 50,000 installations. The android app size is 11M and is a free android app. This android app is rated 4.3 by 86 reviews in android market at the time of writing this post. Download the latest version this best android app for free from android market.