Google Wallet Android App is the official android app by Google. Download this best android application for your android mobile. Make your android phone your wallet. Get ready to tap, pay, and save with Google Wallet, this android app makes your phone your wallet. You can pay using Google Wallet android app anywhere MasterCard PayPass is accepted.
Features of Google Wallet Android App :
* makes paying fast with Citi MasterCard or the Google Prepaid Card
* makes saving simple by automatically syncing your Google Offers to your phone
* is a wallet that you can lock, keeping you safe and secure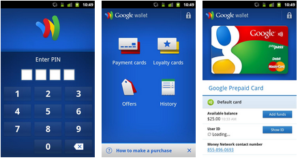 What's new in this version of android app:
Fixes an issue with My Apps icon.
Find new offers directly in Wallet
Updated transaction detail screen (for Tap & Pay and in Transaction History)
Merchant name and amount now available for Google Prepaid Card purchases
Improved button to turn your cards on and off
Five minute default PIN timeout for new users
An improved tutorial
Account Number validation for some gift cards
Prepaid Card top up forms more flexible
Citi Mastercard management improvements
Also check out the other Google official apps :
– Google Maps android Application
– Google Analytics Android App
– Google Plus Android App
– Google Drive Android App
– Gmail Android App
– Google Earth Android App
– Youtube Android Application
The Google Wallet app supports any credit or debit card — Visa, MasterCard, American Express, or Discover. You can use your Google Wallet for in-store purchases using a phone, or for online purchases at participating merchants.
If you lose your phone, you can disable your mobile wallet from the 'Devices' section of wallet.google.com/manage
Google Wallet is the Best Android Application for shopping on your android mobile. This is a free android application is last updated on June 5, 2013 by the developer. The latest version of this android app is 1.6-R96-v16 and requires ANDROID version 2.3.3 and up to be installed on your android device. This app is currently trending in Android Market under finance android apps and has 5,000,000 – 10,000,000 installations since its launch.
This android app will require approx 5.0 M of free space on your device for installation. This android app is rated 3.1 with 11,441 reviews in google android market at the time of writing this post. You can download this free Google Wallet android app from Google android market.