Google IO is scheduled for May 10-11, 2011 / Moscone Center, San Francisco. Must have best android apps for all attendees and enthusiasts of Google IO.


Google I/O brings together thousands of developers for two days of deep technical content, focused on building the next generation of web, mobile, and enterprise applications with Google and open web technologies such as Android, Google Chrome, Google APIs, Google Web Toolkit, App Engine, and more. This FREE Android App by Google captures all the details of the event.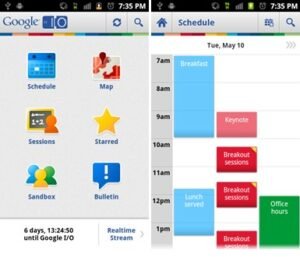 Checkout the schedule to find when the keynote presentation, lunch, and developer office hours will take place.
By selecting a specific class, you can view a summary of its content, who will be speaking, in addition to when and where it will be held. I/O will feature over 80 sessions ranging from introductory talks to deep dives on the nuts and bolts of a particular technology or product. This Android app for tablets and mobile is must have app.

Download the best android app for free using the QR code.