Explore the world from the palm of your hand with Google Earth. Download this best android app on your android tablet for FREE. Use Google Earth to fly around the planet with the swipe of a finger. Explore distant lands or reacquaint yourself with your childhood home. Search by voice for cities, places, and businesses. Browse layers including roads, borders, places, photos and more.
For android tablet tablet users on Android 3.0 (Honeycomb), you can now enjoy a new Google Earth experience optimized for the large screen. With a new action bar, you can get easy access to search, reset-to-north, my location, and layers. Also, you can now explore the same photo-realistic 3D buildings that have previously only been accessible with the desktop version of Google Earth.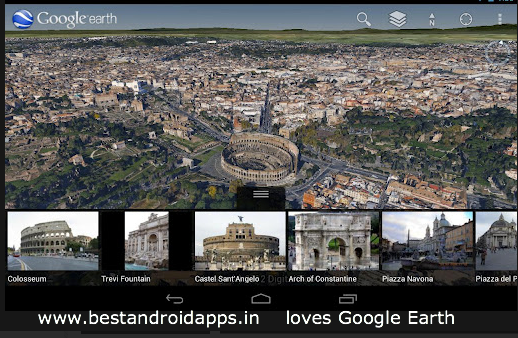 Visit the Statue of Liberty in New York, the Taj Mahal in India, or the Sydney Opera House in Australia, all in their full 3D glory! To view 3D buildings on your tablet, just select '3D Buildings' from the layer menu.
You can easily navigate on this best android app with your fingers, using:
a one finger swipe to move the globe
a two-finger pinch and rotate to zoom in and out and rotate your viewpoint
two-fingers swiped together to tilt your view
a one single finger double-tap to zoom in and
a two-finger double-tap to zoom out
Fly to the far reaches of the world from the palm of your hand. Google Earth is currently available on Android phones and tablets, and the iPhone, iPod Touch, and iPad.
Explore the same 3D imagery and terrain as the desktop version
Fly to your current location with the touch of a button
Pan, zoom, and tilt your view as you travel the globe
Search for cities, places, and businesses around the world
View layers of geographic information
Search by voice to easily find what you're looking for
View 3D buildings in cities around the globe (Android tablets only)
Also check out the other Google official apps :
– Google Maps android Application
– Google Analytics Android App
– Google Plus Android App
– Google Wallet Android App
– Google Drive Android App
– Gmail Android App
– Youtube Android Application
Updates in latest version :
– Earth Gallery: Explore a curated list of layers, such as real time flights, earthquake, and city tours.
– Touring: load tours from the Gallery or inside balloons.
– Share your current view through Google+ or other social applications.
– 3D imagery: Take flight above entire cities in 3D. Get started with Los Angeles, Boston, San Francisco, Geneva or Rome and look for new additions in the coming weeks. Available for devices with dual-core processors.
Google Maps Street View: With Street View, you can explore the world at street level.
– Improved directions/search: Updated directions let you can visualize transit, walk, bike and drive directions in 3D while update search result list will let you browse search results quickly.
– Improved interface: Easily browse and enable different layers through use of new left hand panel
Google Earth Android Application is the best android Android App available free and is last updated on June 6, 2013 and the latest version is 7.0.0.7386 which requires ANDROID 2.1 and up. This is currently trending in Android Market under travel & local android apps and already has 50,000,000 – 100,000,000 installations.
The android app size is 8.6 M and is a free android app. This android app is rated 4.5 with 194,995 reviews in android market at the time of writing this post. Download this best android app from Google android market or use the QR code on the left.