GO Locker ICS Theme, design to GO Launcher EX, is available now for your android mobile for FREE.
How to install Go Locker Android 4.0 Theme :
1. Make sure GO Launcher EX V2.58 or above and GO Locker v1.05 has been installed
2. Click "MENU—->Preferences—->Theme Settings—->GO Locker—->My locker" to choose the theme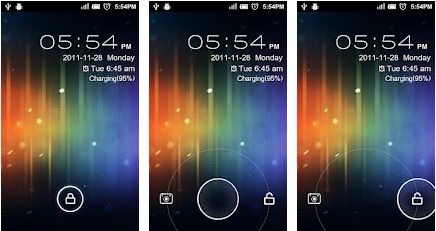 To change the default camera icon you have to click on theme settings and click on where it says camera and scroll to the desired application.
Go Locker Android 4.0 Theme is one of the Best Android Application for ICS experience on your android mobile. This free android application is last updated on April 11, 2012 by the developer. The latest version of this android app is 1.01 and requires ANDROID version 1.6 and up to be installed on your android device. This best android app is currently trending in Android Market under productivity android apps and has 1,000,000 – 5,000,000 installations since its launch. This android app will require approx 504k of free space on your device for installation. This free android application is rated 4.4 with 4,953 reviews in google android market at the time of writing this post. You can download this free android 4.0 app from Google android market.