Fring Video Chat Android App is one of the best android application for video chat on your android mobile. New Android version which supercharges fring's talking & video talking. The whole call experience is better. Starting from the new 'slide to answer' for getting a call, to updated call screens, complete with clearer sound cues, and audio fixes.
Features of Fring Video Chat Android App
* The only free mobile Group Video Call service in the world!
* Video call/Call any other Android, iPhones, iPod touches, Nokia and more
* See your friends real-time status; you can chat with your friends before video-calling them
* Fun and easy to use
* Use your phone number for registration instead of username / password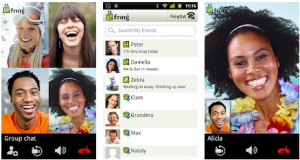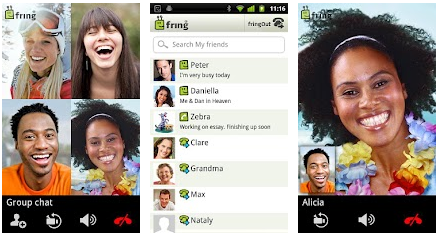 Features of Group Video Chat, Voice Calls & Text Chat
* Group Video Chat with 4 friends video chat at the same time!
* Video chat with DVQ™ technology (more below) on 3G,4G & WiFi
* Free calls to other fring users worldwide
* Free live text chat (no more expensive SMS)

Latest updates :
– 1 click transitions between audio and video calls
– Mute feature in both voice & video calls
– Fixes for Samsung Galaxy S2
Updates in previous Version of Fring Video Chat Android App:
– Faster and more robust connection to network
– Introducing Call Hold when an incoming cellular call interrupts a fring call
– Smoother video calls like never before.
– Slick new UI for your video calls.
– No ADS! For all fringOut customers.
– A whole bunch of fixes for the bugs you reported.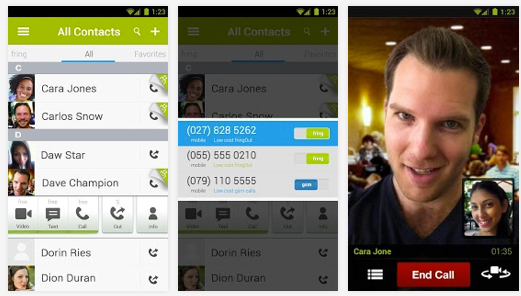 – Enhanced notifications: reply to a missed call or message straight from the system notifications!
– Quick muting of incoming calls: just flip your handset face down while it rings
– Sliding menu: slide your finger from left to right to open the menu
– Visual notifications: LED will blink on incoming calls or messages
– Incoming calls show a full screen picture of the caller
Fring Video Chat Android App is one of the Best Android Application for video chat on your android mobile. This free android application is last updated on October 29, 2013 by the developer. The latest version of this android app is 4.5.1.1 and requires ANDROID version 2.2 and up to be installed on your android device. This best android app is currently trending in Android Market under communication android apps and has 10,000,000 – 50,000,000 installations since its launch.
This android app will require approx 11.0 M of free space on your device for installation. This free android application is rated 3.9 with 111,985 reviews in google android market at the time of writing this post. You can download this best android app from Google android market.