nexGTv – Free Live TV App with best of the Indian channels & Video on demand content is one of the top application offering a compelling end-user experience to view Live TV on mobile devices for free.
[v=_JJQm0_jtcI&]
Free Live TV App is the easiest and quickest way to have access to over 100 Live Indian TV channels, Replay TV and Video on Demand.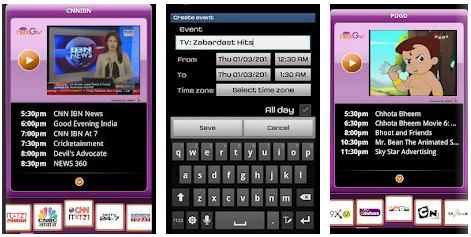 Features of nexGTv – Free Live TV App:
• Full Screen viewing on your mobile
• Fast channel launch and switching
• Integrated Electronic Program Guide (EPG) of one week for all channels
• Enable Channel reordering for later viewing
• Channel deletion for managing the channel list
• Interactive on-screen controls:
– Picture in picture mode
– Brightness & Volume control
– Adaptive bit rate streaming
Important: The content/channel streaming will not work outside India. For any query, you can reach the developers at @ 18601081010 / 18601081008 or visit their official site www.nexgtv.com
nexGTv – Free Live TV Application is one of the Best Android App for watching live TV on android mobile. This free android application is listed under entertainment apps in Google Android Market. The app has 500,000 – 1,000,000 downloads since its launch. The latest version of this android app (version 2.2.1) was released by the developer on June 12, 2012 and requires ANDROID version 1.6 and up to be installed on your android device.
This android app is rated 4.5 with 9,038 reviews at the time of writing this post. This android app will require approx 1.2 M of free space on your device for installation. Download this best android app for free from Google android market.