Flipboard for android is one of the best android app to stay connected to the news, photos and friends that matter most to you.
Important note: Flipboard Accounts is a new feature. Even if you're a long-time Flipboard reader, it's likely you have not created an account before. Please try creating a new account; it's easy. If you have used Flipboard previously on the iPad, be sure to create your account on your iPad first. This will save your set-up. Then sign in on your iPhone and all your Flipboard content will be there.


Flipboard android app is not yet made available on Google Play by the developer, If you'd like to get the Flipboard for Android beta, please follow these instructions:
– Go to the security section in your phone settings and allow the installation of apps from unknown sources.
– For a limited time, you can download flipboard for android beta with this link or vist the official flipboard for android website.
– Copy the .apk on to the SD card on your Android device. Or, if you're reading this on your smartphone, you can click the link and it should download automatically
– Browse sd card using file manager installed on your android mobile.
– Click ,Install and enjoy.
– Save anything to read later using Instapaper, Pocket and Readability.
– Create a Flipboard account to access your favorite content and social networks on different or shared devices.
– Explore hundreds of staff picks in the Content Guide, including must-read magazines and blogs, gorgeous photography and special curated sections devoted to the news of the day and other topics of interest.
– Access Flipboard quickly through the widget.
Once you have downloaded and installed the app you will be asked to select which categories of news you're interested in…News, Technology, Design, Photography, Business, Sports, Style & Flipboard Picks. The interface is similar to the the iPhone and iPad version, in terms of design, layout and navigation.
Features of Android App:
– Everything people are sharing, collecting and publishing in every moment comes together in a single place.
– Search for anything—people, topics, hashtags, blogs, your favorite sites—and flip through articles, updates, photos and videos in a beautiful magazine format.
– Connect Flipboard to 12 social networks, streamlining your reading and activities like commenting, liking and sharing. Services include Twitter, Facebook, Instagram, Google+, YouTube, Google Reader, LinkedIn, Flickr, 500px, Sina Weibo and Renren.
– Get a quick dose of what's happening now, in Cover Stories, a constantly updated selection of articles, photos and videos shared by your friends.
– Save anything to read later using Instapaper, Pocket and Readability.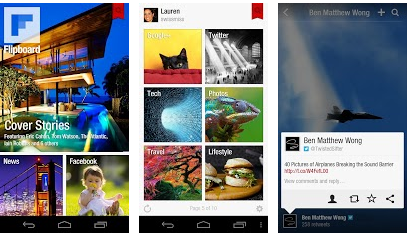 Update : Flipboard is now available in Google Play Store. This free android application is last updated on September 6, 2013 by the developer. The latest version of this android app is 2.0.8 and requires ANDROID version 2.2 and up. Flipboard has 50,000,000 – 100,000,000 download since launch and is rated 4.5 with 233,838 reviews.
Updates in the latest version of Flipboard :
– Improved navigation within sections, visible when you tap on section's name
– Easier access to Google Reader feeds and folders
– In-app hints that expose helpful functionality
– New shopping cart features (Gilt Taste section)
– Listen to segments from NPR Fresh Air, PRI's The World, and lots more great audio content.
– Discover, like and share music from your friends on SoundCloud.
– Bug fixes and performance improvements.
– Discover magazines by friends quickly in new Friends category in the Content Guide