Download Fingerprint Lock Android Application for free and convert your mobile to a finger print scanner. Touch the sensor area of the fingerprint scanner on screen with your fingers and raise the lock of your mobile phone.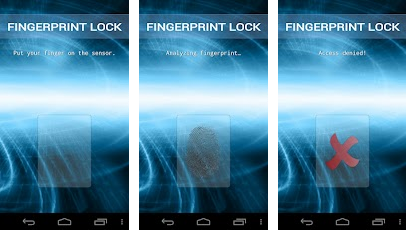 Of course, the screen of your Android smartphones can not read your fingerprints, it simply responds to the touch. This android app is also a prank you can try on your friends like Finger print scanner and solar charger android app.
Fingerprint Lock Android Application has a modern design that reacts with either haptic, as well as acoustic feedback. The trick : The trick is that you can change with a simple click on the title of the app (fingerprint lock) between "allow access" and "deny".
What's New
– small bugfixes
– exit-ads removed
– full support of the new google policy
Fingerprint Lock Android Application is one of the Best Android App for playing prank on your android mobile. This free android application is listed under entertainment apps in Google Android Market. The app has 5,000,000 – 10,000,000 downloads since its launch. The latest version of this android app (version 1.0.7) was released by the developer on April 21, 2014.
Fingerprint Lock Android Application requires ANDROID version 1.6 and up to be installed on your android device. This android app is rated 3.3 with 33,762 reviews at the time of writing this post. This android app will require approx 682k of free space on your device for installation. Download this best android app for free from Google android market.