Unlock your android mobile with your fingerprint using this best android app.  Finger Print Security Scanner Android app is for entertainment purposes and does not actually scan your fingerprint 🙂
This is a prank application to have fun with your friends. Fool others using this best android app by making them think your device is an advanced security analyzing tool from the future which can scan & verify fingerprints. Also,  pressing the home button will also unlock the phone overriding this android app.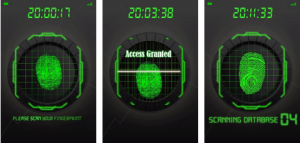 You can control the outcome of a scan of this best android app very easily . When the FingerPrint android app screen pops up, touch your finger to the screen to be "scanned" for your identity, there will be vibration and beep sounds during the scan. You can pre-set the number of beeps which will be heard before the phone gets unlocked using this best android app.
If a user keeps his finger on the scanning interface for more or lesser number of beeps then the phone is not unlocked and a message saying "Access Denied" is displayed. The number of beeps after which the phone will be unlocked can be easily modified by the user in the settings menu. Finger Scanner Security seems like it's reading your finger print using biometrics and locking up your phone.
If you are locked out of your phone try the following:
a) Click on the home button on the phone
b) Keep your finger till 3 beeps and then remove it
c) If the above two methods do not work, it means you have
1. disabled the home button
2. Changed/reset the number of beeps to unlock
3. And have forgotten the number to which you set it to. So fortunately for you, the app has only 11 possible ases,
varying from 0 beeps to 10 beeps to unlock. try each of the case one by one.
d) Switch off the phone and then switch it on again.
Finger Print Security Android Application is the best android App for playing prank. Finger print security app is last updated on January 7, 2012 and the latest version is 1.1 which requires ANDROID 2.1 and up. This is currently trending in Android Market under entertainment android apps and already has 50,000 – 100,000 installations. The android app size is 1.2 M and is a free android app. Download this app from android market.