File Manager HD (Honeycomb) is the Best tablet optimized file manager application for Honeycomb 3.0 and ICS 4.0 android tablet. Download this best android tablet application for free.

High definition(1280*800) with fresh UI design and user friendly functions! File manager is optimization for tablets and certified on Honeycomb!
This best android apps for Tablet includes:
* Based on Android 3.0 new feature and theme
* High definition(1280*800) support
* 3 sets of commercial icons for 60+ different file types, toolbar and menu items
* Cut, copy, paste and cancellable progress dialog
* List and grid view for file browsing
* Compress and decompress support
* Search and share files
* Multiple selection and sorting support
* Thumbnail for photo, pictures and apk files
* Support both local and remote(LAN/SMB) file system
* Built-in text editor and swf player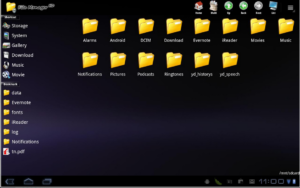 Tested for Motorola Xoom and Samsung Android Tablet.
What's in this version of File Manager for Android Tablet:
– Fix media file cut/paste defect
– Keep last modified time for pasted files
– Keep parent file position when press up button
– Fix LAN shortcut deletion problem.
– Keep CPU awake during file copy/zip/upzip, screen still can sleep to save battery.
– Retain file list view position after file delete/rename/create/paste…
– Change "Storage" shortcut linkage from internal storage to external SD card.
– Support file permission modification under root mode. Not available for SD card files.
– Support view file MD5 sum. Long click on file, from file details dialog, there is new MD5 description.
– More file type support.
– Support Czech language, thanks to Richard Podzemsky!
– Enhance background task performance including copy/paste/extract/zip, etc.
– Support editing text files from LAN shares directly.
– Support playing flv files from LAN shares directly.
NOTE: This is an Ad supported application, but you can enable ad-free version by in-app donation in settings page.
File Manager for Android 4.0 ICS Tablet is free android app and is last updated on June 10, 2012 and the latest version is 1.8.2  which requires ANDROID 3.0 and up. This is currently trending in Android Market under Tools android apps and already has 100,000 – 500,000 installations. The android app size is 1.6 M and is a free android app. This android app is rated 4.6 in android market at the time of writing this post. Download this app from android market.