Pose is a Fashion, Beauty & Style Android App. This can be summed as a network of trendsetters where you can share your favorite styles, get feedback on your finds, & discover inspiring styles from around the world.

Features of Pose Android application:
• Browse over thousands of styles and looks uploaded daily
• Follow top trendsetters, brands and celebrities
• Share your favorite outfits & shopping finds
• Start style conversations with like-minded shoppers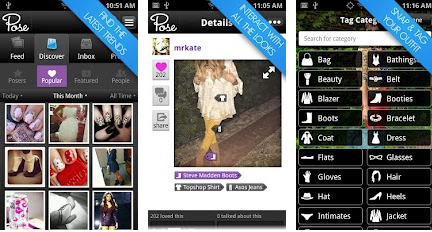 Follow friends & style influencers like celebrity stylist Rachel Zoe, model Coco Rocha and fashion bloggers on Pose Android application and see what they're wearing in real-time.
Pose Android application is one of the Best Android App for Fashion, Beauty & Style on your android mobile. This free android application is listed under Social apps in Google Android Market. The app has 1,000,000 – 5,000,000 downloads since its launch.
The latest version of this android app (version 2.7.3) was released by the developer on May 16, 2012 and requires ANDROID version 2.2 and up to be installed on your android device. This android app is rated 4.4 with 12,311 reviews at the time of writing this post. This android app will require approx 3 M of free space on your device for installation. Download this best android app for free from Google android market.