Fake Me Out Of Here! is a best android apps for generating a fake call alert for your android device. Download this android application and get rid of boring meetings. Fake an incoming call simply by shaking your android phone!
This is now possible with the ultimate call faker android app. Get out of awkward situations and boring meetings by giving yourself a fake call. With this app you don't need to press any buttons or to choose a predefined schedule! The phone shake will trigger an incoming fake call according to the settings.
Spoof, prank, get an excuse to get out
* Specify caller name & number
* Customize ringtone & vibration(alarm)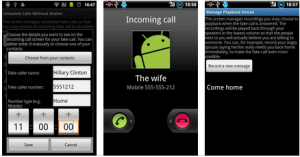 This app is both fun and extremely useful!
Some other good uses of this app:
* Fake a call and get out of a bad date quickly
* Shake and fake to get out of work early without feeling discomfort
* The bothersome neighbour started talking to you again? Shake it and fake it
* The conversation you're uncomfortable with started again? Fake your way out of it
* Want to fool your friends the beautiful blonde keeps calling you? Fake a call and fool them
* Alone in the dark and there's a suspicious guy around the corner? Fake an incoming call and feel safer
* Boring meeting? Fake your way out of it
* Want to play a prank on your friends? Shake and prank
What's in this version of Fake Call Alert Android Application:
V 6.06 : Fixed an issue with the playback on some devices
V 6.03 : Added a 4×2 widget with 1.5, 3, 5 and 10 minute delays.
V 6.02 : Increased the number of scheduled calls
Download the best android app directly to your android phone using the QR code.
Fake Call Alert Android Application is one of the Best Android App for your android mobile. This free android application is listed under productivity apps in Google Android Market. The app has 100,000 – 500,000 downloads since its launch. The latest version of this android app (version 6.06) was released by the developer on June 11, 2013 and requires ANDROID version 2.0 and up to be installed on your android device. This android app is rated 3.7 with 1,047 reviews at the time of writing this post.
This android app will require approx 692k of free space on your device for installation. Download this best android app for free from Google android market.