Facebook Video Android Application lets you to upload videos directly to your Facebook account, groups, or pages from your android phone. Once the video is uploaded it will be posted to your facebook wall. You can also select the privacy settings for the uploaded video.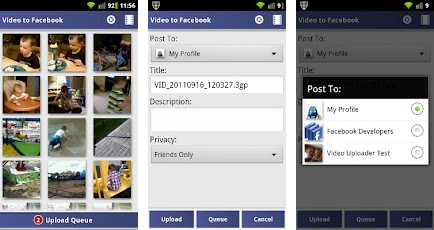 The upload speed and time is dependent on the size of video and the data network connection. It is suggested to use wi-fi or free wifi hotspot to save on your mobile data.
Updates in the various versions of this app
– ICS theme enhancements
– Performance Enhancements
– Post videos to events
– Upgrade to latest Facebook API
– Individual permission prompts for Facebook
– Queue enhancements including displaying currently uploading item with a progress bar.
As per developer, this application does not retrieve or store any information from Facebook other than video limits imposed. This application is not affiliated with Facebook.
Facebook Video Android Application is one of the Best Android Application for facebook on your android mobile. This free android application is last updated on 29 August 2014 by the developer. The latest version of this android app is 2.3 and requires ANDROID version 2.3 and up to be installed on your android device. This best android app is currently trending under social android apps and has 1,000,000 – 5,000,000 installations since its launch.
This android app will require approx 1.8M of free space on your device for installation. This free android application is rated 4.3 with 15,911 reviews in google android market at the time of writing this post. You can download this best android app from Google android market.