ESPN Android App brings you scores, news, and standings from hundreds of sports leagues around the world. Never miss another goal, pitch, basket, try, touchdown or wicket with ESPN Android App on your android mobile.
Whether you follow the NFL or the Premier League, the Ashes or MLB, MMA or Formula One or live cricket scores ScoreCenter offers the most comprehensive global sports coverage available on your Android device.
Features of ESPN Android App:
– Personalized scoreboards and live game details featuring last play, in-game stats, boxscores, game summaries and standings
– myTeams: Follow your favorite teams on one card. Pop in to get scoring updates or catch up on news coverage of your favorite teams from ESPN and from aggregated, local sources
– Instant scores and updates on the biggest games of the day as well as your favorite teams
– Breaking news and analysis across hundreds of leagues and teams, all powered by ESPN's authoritative newsroom
– Dozens of notification options: never miss another kickoff, scoring play, substitution, final whistle or tidbit of breaking news
– Add, edit and remove favorite teams quickly and easily for a customized experience throughout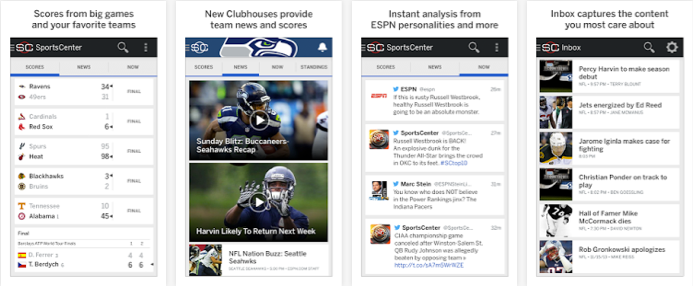 The Lead: Stay on top of the most important live events of the day, read up on breaking news and analysis, and watch just-cut video clips
– Expanded game views, providing in-depth game coverage.
– Breaking news, scores, and videos from the top live events of the day.
– Live scoring alerts for your favorite teams and personalized match-ups sent directly to your phone.
– Deep news and analysis across dozens of leagues, powered by ESPN's 'round-the-clock editorial staff
ESPN Android App video and audio may not work for all android devices, due to network and codec differences; however, this application is tested on number of devices and carriers including the Droid, Droid X, Droid 2, Droid Pro, and Nexus.
What's in this version of ESPN Android App:
– Live streaming of every game on the ESPN family of networks through WatchESPN (authentication required)
– Updated video widget
– Home Section divided into:
– "My Teams" – Scores for all of your favorite teams
– "The Lead" – Scores for all of the day's top events
– Optimized menu for easy sport switching.
– Added Boxing, Conference news for College Sports
– Download Tournament Challenge for a chance to win $10,000 in prizes.
ESPN Android Application is the best android Android App for sports on your mobile. This free cricket app is available for free and is last updated on March 13, 2014 and the latest version is 4.0.4 which requires ANDROID 4.0 and up. This is currently trending in Android Market under Sports android apps and already has 10,000,000 – 50,000,000 installations.
The android app size is 10 M and is a free android app. This android app is rated 4.2 with 346,750 reviews in android market at the time of writing this post. Download this app from Google android market.