Compass Android Application is one of the best compass app, featuring location display and geo-tagged notes.
This compass app for Android features different styles, location display, and Catch Notes integration for easy location notes.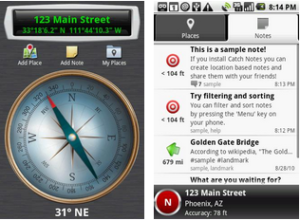 Compass is a free app that offers 4 basic compass types :
a. Vintage Compass – This mode has an antique dial and direction names adjust for user's language.
b. Digital Compass – In this mode the outer dial can be manually rotated, green inner dial shows direction name in user's language, crisp pointer movement with no overshoot.
c. GPS Compass – In this view the red section shows magnetic compass information including direction, magnetic field strength and declination & the Green sections show GPS-based information including direction of movement, speed, altitude, and accuracy estimate.
d. Night Vision Compass – Red outline on black styling for easy reading in low-light conditions.
Updates in the latest version of this app :
– Restore Analog free compass theme
– Fixes to purchase tracking
– Improved animation
Compass Android application is the best android App available free for travel & finding directions. This app is last updated on June 12, 2012 and the latest version is 3.1.4 which requires ANDROID 1.5 and up. This is currently trending in Android Market under productivity android apps and already has 10,000,000 – 50,000,000 installations.
According to developer this android app uses internet permission and transfer usage data back to app server to know which features are used the most and possibly where to improve. There is no unique identifier tied to individual device, and user data is not shared.
The android app size is 2.6 and is a free android app. This android app is rated 4.3 with 88,192 reviews in android market at the time of writing this post. Download this app from android market.