Color Note is a notepad app which give you a better note editing experience on your android mobile for FREE. ColorNote Notepad Android App is a simple word processing program, the text option allows for as many characters as you're willing to type with your device's virtual or physical keyboard. Once saved, you can edit, share, set a reminder, check off or delete the note through your device's menu button.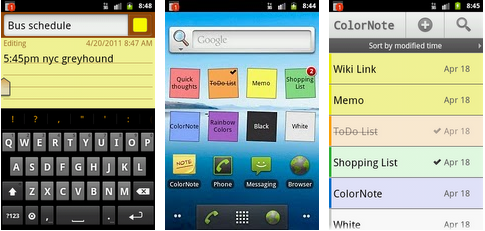 In the checklist mode, you can add as many items as you'd like and move their order around with the up and down buttons activated in the edit mode and create to do list.
Features of ColorNote Notepad Android App:
– Organize notes by color
– Sticky Note Widget
– Checklist for ToDo & Shopping list
– Organize your schedule in calendar
– Protect your notes by passcode
– Password Lock note
– Secured backup notes to sd storage
– Supports online back up and sync. You can sync notes between phone and tablet.
– Reminder on status bar
– List/Grid View

– Search notes
– Notepad supports ColorDict Add-On
– Powerful Reminder : Time Alarm, All day, Repetition.(lunar calendar)
– Quick memo / notes
– Text selection in view mode (over android 4.0)
– Long tap checklist item to copy text
– Max title length increased (30 -> 50)
– Auto sync on exit as well as launch if "sync on launch" option turned on.
– "Soft" theme added.
– "Snippet", "Large grid" view options added.
– Auto link setting changed
Important :
a. Goto home screen and long press empty space and choose widget, Color Note will be there for sticking on page.
b. If the app is installed on the SD card, your widget, reminder and etc. will not work properly
c. Backed up notes data at sdcard is stored at /data/colornote
d. Change password : Menu -> Settings -> Master Password -> Menu Button-> Clear Password.
e. If you cannot find widgets, you have to move the app back to device in application settings and reboot your phone!
f. Settings -> Auto Link -> Auto link phone number
ColorNote Notepad Android App is one of the Best Android Application for sticky notes on your android mobile. This free android application is last updated on April 9, 2014 by the developer. The latest version of this android app is 3.6.6.
The app is trending under productivity android apps and has 50,000,000 – 100,000,000 installations since its launch. This free android application is rated 4.5 with 954,671 reviews. You can download this free android app from Google play store.