City Story Android Tablet App is the best android app where you and your friends can create your dream city. Download this top android app and keep building your city. Build and decorate your own dream city with cafes, boutiques, bakeries, hotels, and landmarks. Watch your population skyrocket as you create the ultimate living, breathing city.
FEATURES of City Story Android Tablet App:
– Choose from over 150 varieties of buildings, businesses, and parks.
– Design and decorate your city with parks, roads, and rivers.
– Place landmarks such as Statue of Liberty, Eiffel Tower, and Empire State Building in your dream city.
– Get notifications when your contracts are ready.
– Send exclusive buildings as gifts to your friends.
– It's FREE!

Like in real life, construction is anything but cheap, and here City Story muddies up the waters with two types of currency: in-game gold, which you can earn primarily by building factories and causing them to fulfill manufacturing contracts that range from t-shirts to vacuum cleaners, and "city cash," which can be obtained using green of the real kind through in-app purchases that can go as high as $50.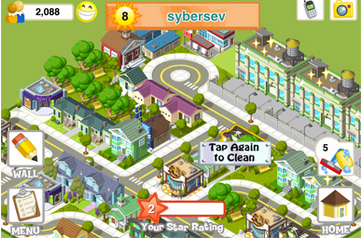 City Story Android Tablet App is last updated on April 17, 2013 and the latest version is 1.0.7 which requires ANDROID 2.1 and up. This is currently trending in Android market under Arcade and Action android apps and already has 5,000,000 – 10,000,000 installations. The android app size is 20 M and is a free android app.
This android app is rated 4.5 by 46,201 reviews and can be downloaded free from Android Market.