Christmas Tree Live Wallpaper is the most downloaded android Live Wallpaper in the Google Market for android tablet. Christmas Tree Live Wallpaper is the only fully customizable Android Free Live Wallpaper, that does not require you to buy a paid version to enable settings.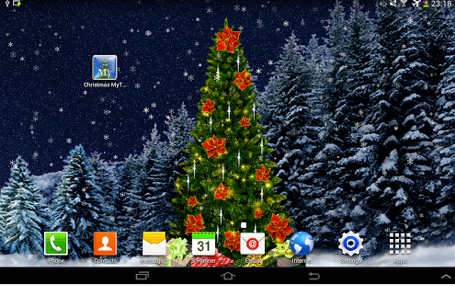 Settings of Christmas Live Wallpaper App:
a. Christmas Tree – Standard, Happy and Frozen
b. Snow – quantity and speed
c. Lights – color, shape, number and effect
d. Sparkling – type and frequency
e. Sound – enable/disable on tap

What's in this version (V1.5)
– Fixed the next errors related to full QWERTY smartphone : tree keeps shrinking on the screen;
– leaving black area below the snow;
– started flashing back an forth on screen and now only top half of screen covered
– Added the snow type (default, golden, stars, snowflakes, abstract)
– Added thin star in effects
Christmas Live Wallpaper App is one of the Best Android wallpaper for christmas on your android mobile and android tablet. This free android application is last updated on November 20, 2013 by the developer. The latest version of this android app is 1.5 and requires ANDROID version 2.1 and up to be installed on your android device.
This best android app is currently trending in Android Market under personalization android apps and has 1,000,000 – 5,000,000 installations since its launch. This android app will require approx 8.2 M of free space on your device for installation. This free android application is rated 4.2 with 17,801 reviews in google android market at the time of writing this post.
You can download this best android app from Google android market.