Chat for Facebook is one of the best android application which lets you talk with your friends via Facebook chat. You can Send photos, voice notes and more using Chat for Facebook android application. Go!Chat for Facebook app lets you talk with your friends via Facebook chat.
Features of this best android app:
• Easy & Secure Facebook chat login
• Nice UI
• Smileys
• Facebook groups
• Favorites notifications
• Friend alias
• Share images and location
• Send video, photos and voice notes over Facebook chat
• Swap conversations with gestures
• Homescreen Widget
• List and search all your facebook contacts, even those who are offline (optional, set in app preferences)
• Access Facebook profile right from Facebook website or Facebook official app
• Send messages even when the other contact turns offline. Messages will be delivered to their facebook messages inbox!
• No additional fees, 100% free, it only uses your internet data connection or WiFi.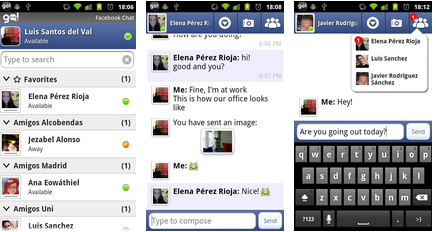 Chat for Facebook widget disappears if app is installed on SD because a known Android issue. Move the app back to phone storage and reboot if you want to use it.
Updates in the latest release of this android application for facebook chat :
• Fixed
Problems to open received audio and video messages
Widget not working in landscape
App icon in high resolution
• New
Icons for favorite notifications
Login screen design (now shows your avatar)
5.2.2:
– Added privacy policy on settings
– Now you can choose between Facebook official app or web when changing user in the login screen
– User interface improvements in conversation screen, photos now are clipped to your messages!
– Integrated photo viewer for pics sent via Go!Chat. (with multitouch zoom for Android 2.2 and above)
– Now you can save photos sent or received via Go!Chat
– Log in through official facebook app
Facebook Chat for Android Mobile is the best android Android App for facebook chat for your android mobile. This is a free android application is last updated on April 13, 2012 by the developer. The latest version of this android app is 5.2.2 and requires ANDROID version 1.5 and up to be installed on your android device. This app is currently trending in Android Market under Communication android apps and has 10,000,000 – 50,000,000 installations since its launch.
This android app will require approx 2.8 M of free space on your device for installation. This android app is rated 4.4 with 134,416 reviews in google android market at the time of writing this post. You can download official android app for flickr free android app from Google android market.