Download the Carrom 3D android app for free and experience the real carrom board on your android phone and android tablet.
Features of Carrom App :
– 3 difficulty levels beginner, intermediate, or expert
– Play with a friend using the same phone
– Play online with friend on another android phone/tablet in the same WI-FI as a network game.
For those who don't know carrom game, it is a strike and pocket game similar to billiards, pools, snooker and shuffleboard; Here in carrom (also known as karrom or carom) you will use the finger to shoot the pieces. (Reference: Wikipedia).
How to play :
– Controls are intuitive to any gamer.
– Aim and shoot similar way you shoot in angry bird android app.
– The game also includes both a quick and a comprehensive tutorial
– The game simulates the physics of the carrom accurately.
– Zig-zag shots you used to play in the actual carrom board.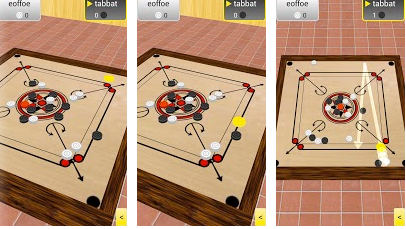 Carrom 3D Android Application is one of the Best Android App for arcade games your android mobile. This free android application is listed under arcade & action apps in Google Android Market. The app has 10,000 – 50,000 downloads since its launch. The latest version of this android app (version 1.01) was released by the developer on January 12, 2013 and requires ANDROID version 2.2 and up to be installed on your android device.
This android app is rated 4.3 at the time of writing this post. This android app will require approx 984k of free space on your device for installation. Download this best android app for free from Google android market .