CamScanner-Free PDF Creator Android Application turns your android phone into a mobile scanner and PDF writer for FREE.With CamScanner Android app, you can digitize any paper documents by using your mobile camera.
Simply take a picture of any paper documents such as receipts, whiteboards, notes, agreement and so forth, and CamScanner android app can auto-crop image, enhance image quality and to create an industry standard PDF file. Then you can easily upload documents to cloud like Dropbox, Google Doc, Box.net, and manage by tagging or searching.


With CamScanner android application you can scan
* Receipt, Bill, Tax Roll
* Business Card, Membership Card, VIP card
* Agreement, PPT and Whiteboard
* Note, Memo, Script, Letter
* Books, Magazines, Newspaper, Poster, Coupon
* Courier Sheet, Resumes, etc
* Increase syncing speed
* Sort docs by name
* Name any page of a document
* Re-capture and replace any page of a document
CamScanner-Free PDF Creator Android App is available in two versions:
– CamScanner Free: With advertisements, PDF files created with watermark, limitation of 50 documents, 10 pages per document, and up to 3 scans in batch mode.
– CamScanner Full:No advertisements, PDF files created is clean without any watermark, no limitation on number of documents, pages, and scans in batch mode.
Key Features of this android app:
*Batch Scan Multi-Page Documents
*Auto-crop and Auto-enhance Image
*Create and Share Multi-size PDF Files
*Back-up documents
*Smart Manage Scanned Files
What's are the updates in CamScanner-Free PDF Creator Android App:
* Sign up an account to enable Cloud Sync and get free space.
* Access, edit, manage and sync documents on smartphones, tablets, PCs and online.
* All edits made on one device instantly syncs to others.
* Business card scanning feature, allowing users to scan cards and recognize contact information instantly
* QR code scanning feature, allowing users to scan any QR codes
* Option to sign in to the web app via scanning QR code with CamScanner app
* Option to save docs into External SD card
* improve image scan quality
Fixed in previous versions:
1. Fixes for Android 3.1/3.2
2. Fixes for Droidx/Galaxy Nexus
3. Add password protection for documents.
4. Move and copy pages.
5. Save the scanned image to gallery
6. Reduce the PDF file size by 40%.
7.Tuned UI for both Android phone and tablet
8. Set orientation and size for the capturing photo in viewfinder
9. Merge current documents with the backup
10. Customize watermarks on your documents
11. Share document by sending a link
12. Import image from Gallery in "My Docs" screen
13. Setting to clear cache, choose Doc Auto Naming Method
14. Setting to enable "Display Image Details (time/size)"
15. Edit/Save OCR/recognized texts (Premium only)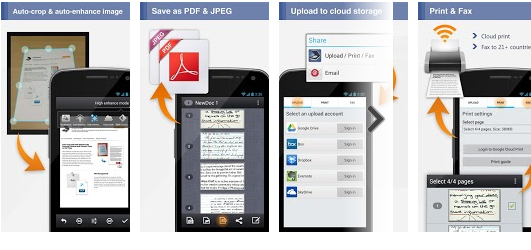 CamScanner-Free PDF Creator Android App is one of the Best Android App for your android mobile. This free android application is listed under productivity apps in Google Android Market. The app has 10,000,000 – 50,000,000 downloads since its launch. The latest version of this android app (version 3.6.0.20140919 ) was released by the developer on 25 January 2015 and requires ANDROID version 2.0 and up to be installed on your android device.
This android app is rated 4.4 with 524,550 reviews at the time of writing this post. This android app will require approx 10 M of free space on your device for installation. Download this best android app for free from Google play store.