Record My Call is the best android app for recording calls on your Android mobile and phones. Download this app and keep record of all your calls.
How this android application works :
This application records all your call (incoming and outgoing). Due to limitation of Android this app only can record from microphone. Turn on the loudspeaker during conversation to get clear voice from the other side. All conversations are recorded under file "RecordMyCall" file in memory/SD card.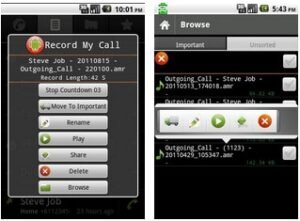 Please try to check 'prevent phone from sleep' and increase 'delay time' on preference if the normal configuration does not work properly on your phone.
Features of Call Recorder Android App:
-Record incoming and outgoing call from microphone.
-All files are saved in memory card.
List of compatible handset (according to developer's site)
a. HTC : Desire , Desire HD, Wildfire, Hero, Evo, Droid Incredible, Thunderbold, Sensation, Inspire
b. Sony : X10, Xperia Arc
c. Samsung : Galaxy S, Galaxy mini, Galaxy 5

What's in this version Version 3.5 (13 November 2011)
– Enhance icons
– Bug fixing
Record My Call Android App is the Best Android App for recording call on your android mobile. This is a free android application is last updated on May 24, 2012 by the developer. The latest version of this android app is 4.11 and requires ANDROID version 2.1 and up to be installed on your android device. This app is currently trending in Android Market under communication android apps and has 500,000 – 1,000,000 installations since its launch.
This android app will require approx 925 K of free space on your device for installation. This android app is rated 4.0 with 12,360 reviews in google android market at the time of writing this post. You can download this best android application from Google android market.