Call Manager & SMS Blocker Android App is the best android app and the only app that blocks FCC Do Not Call offenders automatically and the block list is auto updated with community inputs.Call Control Android application is the most effective call blocking app for Android, blocking unwanted calls and letting you control your privacy and security. Call Control android app is like anti-virus for phone calls, constantly working in the background to block unwanted calls and text messages.
Call Control android application is the ONLY Call Blocker for Android with a Community Blacklist and comes  comes pre-loaded with a Community Blacklist that's generated from Community reports and FCC complaints, blocking thousands of spam and unwanted calls / text messages right out of the box.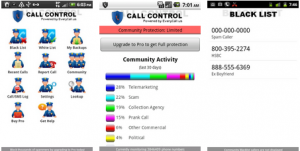 Features of this best android app :
Blocks calls without a ring.
Call blocking by personal and community blacklists.
Automatic community blacklist updates from EveryCall.us.
Personal blacklist and whitelist.
Personal whitelist and automatic adress book contacts whitelisting.
Lookup unrecognized phone calls directly from your call log.
Block calls from Private and Unknown callers.
Blacklist and report calls directly from the Android call log.
Report spam calls right from your Android.
Block any phone number.
Block any area code (i.e. 888, 800, 206).
Wildcard blocking supported (i.e. 888-209-????)
Block text and picture messages.
Block telemarketers and spam callers reported by FCC Do Not Call complaints.
Call log shows "Blocked Calls".
Address book contacts are never blocked.
Automatically runs when device starts (optional).
Blocking calls by area code (available in personal blacklist only).
Send blocked calls to voicemail or disconnect them.
Works with both GSM/CDMA and WiFi connections giving WiFi a priority.
Free Online Integration – Manage your call reports from your free profile at EveryCall.us.
Free product updates and support (Pro version).
Call Manager & SMS Blocker Android Application is the best android App available free and is last updated on August 20, 2013 and the latest version is 3.1.9 which requires ANDROID 1.5 – 4.2 . This is currently trending in Android Market under productivity android apps and already has 1,000,000 – 5,000,000 installations. The android app size is 1.2 M and is a free android app. This android app is rated 4.4 by 44,106 reviews in android market at the time of writing this post. Download this app from android market or use the QR code to download directly to your mobile. Download a 14 day free trial or purchase the Pro version for a one time fee of $7.99. *The free Trial version will expire after 14 days of installation at which point users must purchase Call Control Pro to continue using this best android app.