Bunny Shooter is the best android app to exercise your brain skills with a lot of action and funny animations.

Simply touch the bow, and shoot some arrows on those pink rabbits ans become the best bunny shooter. You need to take revenge against the bunnies who stole your beloved carrots in this funny and addictive physics- based bow-and-arrow shooting game! Take on puzzles and archery accuracy challenges using a wide array ofarrows as you navigate throughout the 3 Bunny worlds, each featuring its own set of fun, yet challenging levels.
Bunny Shooter Android App is an awesome android app and has all the stuff needed to be the new Angry Bird. This is very addicting game and offer a change for angry bird addicts who were getting tired of it.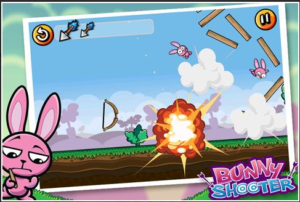 Updates in the latest version of this android app:
– Now you can SKIP LEVELS and remove the ADS.
– WORLD 2 is now LIVE!!! +60 new levels.
Bunny Shooter Android Application is the best android App available free and is last updated on December 13, 2011 and the latest version is 1.35 which requires ANDROID 2.1 and up. This is currently trending in Android Market under brain & puzzle android apps and already has 5,000,000 – 10,000,000 installations. The android app size is 11 M and is a free android app. This android app is rated 4.7 by 298,251 reviews in android market at the time of writing this post. Download this app from android market or use the QR code to download directly to your mobile.