Bubble Live Wallpaper Android App is best android app where you can tap bubbles to burst on home screen of your android device.

Features of best android app
– 7 background themes
– 6 bubble colors
– Bubble droid
– Ability to change number of bubbles floating
– Smooth the edge of bubble
– Reverse bubble acceleration
– Rotating right/left to accelerate bubbles
– Bubble counter
– Support most resolutions including Android 3.0 tab
Bubble Live Wallpaper Android App is a live wallpaper app so you can't open the app, you will need to follow the instruction below in order to set the wallpaper.
Instruction to install this android app : Home -> Menu -> Wallpapers -> Live Wallpapers
Also slower/older devices (shipped with Android OS below 2.1) can't run it too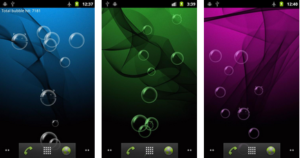 Updates in the latest version of this android app :
– Improved performance slightly on slow/older devices
– Updated languages
– Implemented auto-reload after rebooting with 10 sec buffer
– Fixed some minor bugs
Bubble Live Wallpaper Android App is one of the Best Android App for live wallpaper for your android mobile. This free android application is listed under personalization apps in Google Android Market. The app has 10,000,000 – 50,000,000 downloads since its launch. The latest version of this android app (version 2.1.1) was released by the developer on September 24, 2012 and requires ANDROID version 2.1 and up to be installed on your android device.
This android app is rated 4.4 with 32,280 reviews at the time of writing this post. This android app will require approx 1.7 M of free space on your device for installation. Download this best android app for free from Google android market.