Brain Age Android App is a simple yet addicting fun app which tests your brain age base on your game performance. Download this best android app for free on your android device.
How to play Brain Age Android App :
– You can have 3 attempts until the test finishes
– You will see a set of bubbles with numbers for a short time that you should memorize.
– After the numbers disappear you have to tap each bubble in their corresponding numbers ascending order.
– When the test finishes you can post the result to the scoreboard and see others results.
– In the new update we added Facebook support. Now you can invite your friends and post you age to your wall.
– You may post your results to global scoreboard and compare with other player from all over the world.
– Don't be angry at your brain age results, simply continue use it for about 10 minutes each day and you will notice great improvements shortly 🙂
– You can track your progress and improvements on the progress screen.
Note: You should move/install app to phone if you want to use Brain Age Android App widget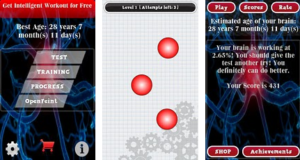 Brain Age Android App is one of the Best Android Application for brain & puzzle on your android mobile. This free android application is last updated on July 20, 2013 by the developer. The latest version of this android app depends on the version of android OS installed on your device.
This best android app is currently trending in Android Market under brain & puzzle android apps and has 10,000,000 – 50,000,000 installations since its launch. This free android application is rated 4.3 with 114,463 reviews in google android market at the time of writing this post.
You can download this best android app from Google android market.