BAM (Best Apps Market) is one of the best discovery tool for android apps in the Google market, including personalized recommendations based on app you have installed on your android device.

Features of Best Apps Market :
a. Displays top apps & Games: 100+ Editorialized lists
b. Apps of the Day
c. App Manager to Move apps to SD card, Uninstall & Share
d. Search & discover new apps
e. Personal app recommendations based on your installed apps
f. Apps of the Day Launcher Widget
g. Last Installed Apps Launcher Widget
h. Only show apps compatibility with your android device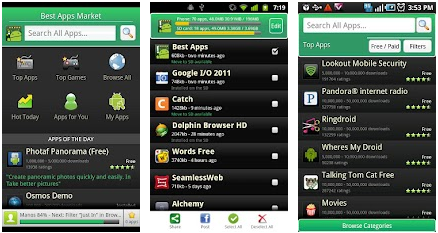 Best Apps Market Android App a tool that combines editorialized lists of apps with a powerful recommendation engine.
Experts categorize apps & tag with traits on a daily basis, so you always get fresh good content plus a better search and great recommendations.
What's in this version of Best Apps Market Android App:
– Fix Home crash on some phones
– Faster Apps2SD App manager
– Network progress bar and connectivity optimization
Important Note: BAM must be installed on phone for the widgets to work, not on SD card. Move & restart phone
Best Apps Market Android App is one of the Best Android Application for finding android apps on your android mobile. This free android application is last updated on February 22, 2012 by the developer. The latest version of this android app is 1.7.3 and requires ANDROID version 1.5 and up to be installed on your android device. This best android app is currently trending in Android Market under tools android apps and has 1,000,000 – 5,000,000 installations since its launch. This android app will require approx 859K of free space on your device for installation. This free android application is rated 4.5 with 18,921 reviews in google android market at the time of writing this post. You can download BAM: Best Android Apps for from Google android market (Google Play).