List of best free anti virus for android honeycomb tablets and android mobile. Download free antivirus and protect your android device from viruses, malware and all malicious software.

Free Antivirus for Android : Antivirus Free is a must have for every Android user. This antivirus Free will detect new applications that are installed on your system, and cross-reference them with our database of known malicious apps. This apps asks for certain permissions up front to enable smooth functioning. Antivirus Free Android App features a complete mobile security package. This app provides you a real-time antivirus protection that keeps you safe from the latest mobile threats and viruses by cross-referencing new apps that are installed on your mobile device.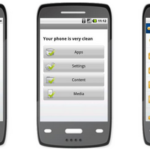 Free Antivirus for Tablet : Free Antivirus from AVG Mobilation – security software for Android™ Keep your device safe with just one click. This application gives you every reason to know that your device is protected and even let's you feel you are in safe hands. You can also find your lost or stolen phone via Google maps. AVG Anti-virus for Android protects your phone from viruses, malware & exploits in real-time. Download this best Antivirus now on your android device. The latest version also includes Scan SD card – Enhanced file scanning feature & View your phone's battery and app storage consumption to help you optimize your mobile device's resources.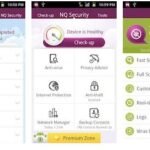 Free Antivirus by NetQin : NetQin Antivirus FREE from NetQin(NQ) detects new applications installed on your system, and check with our cloud security database for known malicious apps. Its comprehensive functions are really practical. You can even track your stolen phone on Google Map with the Anti-Theft feature. This free android application is last updated on January 20, 2014 by the developer. The latest version of this android app is 7.2.00.00 and requires ANDROID version 2.0 and up to be installed on your android device. Free Antivirus by Creative apps is rated 4.4 with 201,102 reviews in google play store at the time of writing this post.
Bonus Antivirus Application :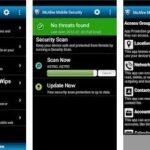 McAfee Antivirus & Security : McAfee Mobile Security provides comprehensive security for your Android device. Protect your Android phone or tablet with award winning antivirus, privacy and security software from McAfee. Get comprehensive Android security with a simple, powerful service: antivirus, anti-theft, safe mobile surfing, app protection and call and SMS filter.