Home Security Systems are essential to protect your home from any intrusion and provide you peace of mind. You can easily control your home security systems with these best android apps.
Now you can easily control your home security, watch live updates or check when your kids or hired help enter and exit your home. This android app also help you track whether your home security system during the work hours or while you are on vacation.
There are some alarming systems which can be accessed over internet and these alarm systems can also be operated through the use of your smartphones. These alarming and security systems will send you the alert to your phones via email or Text.
1. Alarm.com Home Security System App
Alarm.com has a inclusive app, offering complete control of your home security system. This android app is Free for all existing and new customers. Customers can monitor the security system, set and disable security alarm, and change the home security settings. And with upcoming support for operating light switches, this Android app will soon have it all. 
2. ElkDroid Home Security System App
ElkDroid is an Android app for Elk Security users. This android app lets you monitor your home security system, when you're away. You can see and control the areas of your home which are secured, turn on the lights and/or turn up the air conditioning. ElkDroid is not a free app but then again, peace of mind is priceless.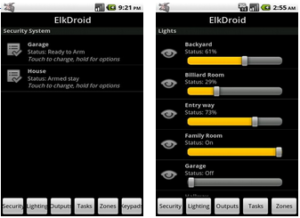 3. Control4 Home Security System App
Control4 security systems enabled smart home, can use Mobile Navigator. This android app allows users to control security, lighting, temperature, music and video with the smart phone in the same way they would control their home security systems through normal Control4 touch screen.