Flixster Android Application is one of the 5 best android apps for movie reviews, trailers and show times. Download Flixster android app and get show-times for the top box office movies on your android device.
Reach to the local theaters. Browse through 65,000 DVDs and watch 15,000 trailers.You can also Read reviews from Rotten Tomatoes and Add & manage your Netflix queue.
Features of Flixster Best Android App for Movies :
– Preview movies that are opening this week and see what's hot at the box office
– See what's new on DVD and Blu-ray, and browse a catalog of over 65,000 films
– Watch high quality trailers and video clips for over 15,000 blockbusters and indie flicks
– Read movie reviews from Rotten Tomatoes
– Search for your favorite movies, actors, and directors
– Get maps that show nearby theaters and what movies they're playing
– Stream and download full-length movies
– Create your own "Want to See" list, rate & review movies
– View and manage your Netflix queue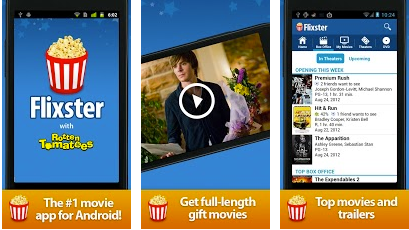 What's in the latest version of this android app:
What's in this version:
– Redesigned movie and showtime pages on 10″ tablets
– 10″ tablet users, you can now add movies to your want to see list and rate movies
– Netflix queue management has been moved to "Watch It Now" section on movie pages
– Improvements to tab navigations and movie list quick actions
– Improved fullscreen photo gallery experience
– Improved login via Facebook feature
– Included minor improvements and bug fixes
– Improved movie collection page loading time
– Fixed movie collection page crash
– Improved movie streaming quality on android Honeycomb tablets
– Restored Netflix DVD queue management feature
– Added support for UltraViolet Digital Copy movie streaming on Honeycomb tablets (OS 3.1 and 3.2)
– Improved social features
This free android application is listed under entertainment apps in Google Android Market. The app has 10,000,000 – 50,000,000 downloads since its launch. The latest version of this android app was released by the developer on June 5, 2013.
This android app is rated 4.6 with 407,853 reviews at the time of writing this post. This android app will require space depending upon the android version installed on your device for installation. Download this best android app for free from Google android market.