Battery Saver Task Killer Android App by aipopDev is best android app for saving battery life on your android app. This android app is also known as Battery Doctor to Save Battery or Battery saver.
Extend you mobile's Battery Life (boost Battery Life) by managing following settings :
– Set screen timeout time
– Volume control:Ringer volume,Notification volume,Media volume,Alarm volume,Voice call volume,System volume.
– Set screen brightness.
– Ringer control:Silent mode,Vibration mode,Sound only mode.
– GPS receiver/ GPS setting
– 2G/3G toggle(mobile data)
– Set Wi-Fi/wifi,Bluetooth,Auto-sync data,Airplane mode
– Set Wi-Fi hotspot for 2.2(does not support some USA users if your Carrier charges for it)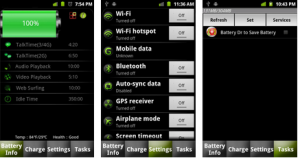 Other features :
a. Displays the battery status, battery information
b. The task killer like ATK allows you to kill processes on your Android quickly .
c. Search history eraser
Battery Dr saver is the best Battery Improver/Battery Booster/battery saver tool.As your Battery Helper,it helps you to improve battery life .
Updates in this version of this android app v3.4.3 :
1. Change the launcher icon
2. Replace some images.
3. "Select Language"function
4. History cleaner:(needs browser history permission)
5. Fixed some German translation mistakes.
6. Remove the read phone permission
7. Remove the GPS permission.
8. Wait for 10-15 minutes when power is 100%,then you will get a "Full charge".
9. Change the launcher icon
10. Bug fix for Android OS 4.0 ICS
Battery Saver and Task Killer Android App by aipopDev is one of the Best Android Application for task management and battery management on your android mobile.
This is a free android application is last updated on January 9, 2014 by the developer. The latest version of this android app is 3.6.2 and requires ANDROID version 1.6 and up to be installed on your android device. This app is currently trending in Android Market under tools android apps and has 10,000,000 – 50,000,000 installations since its launch.
This android app will require approx 1.0 M of free space on your device for installation. This android app is rated 4.4 with 110,536 reviews in google android market at the time of writing this post. You can download this free android app from Google android market