Download the best android app for taking shots at basketball court.

Score 25 shots from 5 positions in under 60 seconds! Enjoy 3D graphics, realistic physics and addictive gameplay. Shoot the ball with your finger, challenge your friends and earn coins. Basketball Shots 3D features 4 difficulty levels, live leaderboards, unlockable achievements and online challenges!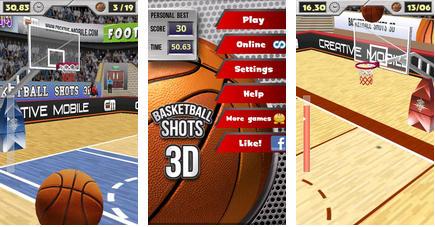 Adding over 300 000 new players every month!
One of the top games in the Action & Arcade category, Basketball Shots 3D (previously known as 3-Point Shootout) is a simple aim-and-toss style game where your goal is to score 25 shots from 5 positions on the basketball court in under 60 seconds. As simple as it sounds, this game is a great time-killer with crisp 3D graphics and addictive gameplay.

Features of Basketball Shots 3D Android App:
Realistic physics
Fast-paced aim-and-toss style gameplay
Global leaderboards for each of the 4 game modes
Basketball Shots Android App is a free android app is last updated on March 18, 2011 and the latest version is 1.9.1 which requires ANDROID 1.6 and up. This is currently trending in Android Market under Arcade & Action android apps and already has 1,000,000 – 5,000,000 installations. The android app size is 5.4M and is a free android app. This android app is rated 4.1 by 10,937 reviews in android market at the time of writing this post. Download the latest version this best android app for free from android market or visit official Basketball Shots app page.