Bank of America Android App is the official android app by bank of America for your android device. You must be enrolled in Online Banking with Bank of America to use this Android App.
The Bank of America app lets you easily view balances, make transfers, and more. With Bank of America Mobile Banking, easily take your banking with you.
Features of best android app
— Pay bills and transfer funds
— Review account balances
— Find ATM and banking center locations using GPS, with no address input required
— Mobile Check Deposit allows you to make check deposits right away using your android mobile. You no longer need to wait to go to bank ot ATM
— BankAmeriDeals™: Choose the deals you want, from stores/restaurants you like, and earn cash back when you use your Bank of America debit/credit cards
— Ability to make transfers to other people using only an email address or mobile number (limited to customers in a few U.S. states) Currently, this capability is only available to customers in a few U.S. states.
— Ability to view check images
— Make check deposits
— Choose the BankAmeriDeals™ you want, and earn cash back
— Receive Bank of America Alerts as push notifications
— Securely send money to others, using their mobile number or email address*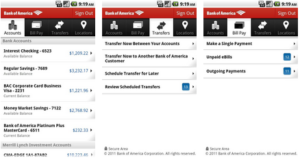 What's New in this Version
* Make payments to your credit card using your checking accounts at other banks (note: external account must already be set up in Online Banking)
* Add/edit/delete your Bill Pay accounts
* Add your own email/mobile number to receive money from others
* Send money to people and small businesses via their email addresses or mobile phone numbers
* Call Me Now feature now available for Platinum Privileges clients
Bank of America Android App has the same level of security as Online Banking, including the Online Banking Security Guarantee. SafePass® security is also available in the Android Mobile Banking App, just like in Online Banking.
Bank of America Android Application is the top Android App for banking with Bank of America on your android mobile. This is a free android application is last updated on August 20, 2013 by the developer. The latest version of this android app is 4.3.229 and requires ANDROID version 2.2 and up to be installed on your android device. This app is currently trending in Android Market under finance android apps and has 10,000,000 – 50,000,000 installations since its launch.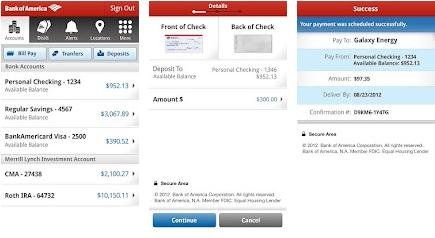 This android app will require approx 3.3 M of free space on your device for installation. This android app is rated 4.3 with 95,157 reviews in google android market at the time of writing this post. You can download this best android application from Google android market