AVG Anti-virus for Android protects your phone from viruses, malware & exploits in real-time. Download this best Antivirus now on your android device. Download Anti-Virus for android for free today for better security now. Security provided by this best android app includes :
Scan whole device and identify and remove viruses with a simpleclick
Automatic scans can be run weekly, daily, or on demand
Check apps for malware before downloading from app stores
Check website content, emails, and SMS for malware before downloading to device
A closer look on AVG security & Antivirus suite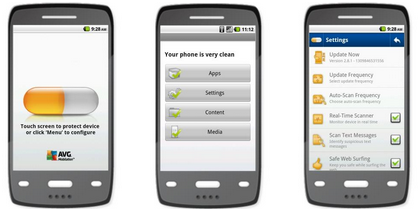 AVG and DroidSecurity have partnered together to protect you from threats to your security, privacy and online identity by focusing specifically on the mobile environment. With free antivirus for Android you'll receive effective, easy-to-use virus and malware protection, as well as a real-time scanner, backup assistant, phone locator, task killer, app locker and local device wipe.
Real-time scanner
Keeps you protected no matter how you download your apps or games
Anti-Virus for Android also:
√ Protects apps from viruses, malware and spyware
√ Identifies unsecure device settings and advise how to fix them.
√ Ensures emails, contacts, bookmarks and text messages are securely safe
√ Checks media files for malicious software and security threats
√ protect you from phishing attacks
√ Can be run daily, weekly, or on demand
The latest version also includes :
1. Scan SD card – Enhanced file scanning feature.
2. Tune Up – allows you to view your phone's battery and app storage consumption to help you optimize your mobile device's resources.
3. Fresh new look added for an improved look and feel.
4. A new and improved widget with better functionality and ease of use.
5. Please note SMS Blocker isn't available for Android v4.4 Kit-Kat devices
Backup your Android (Beta version)
Back up contacts, call logs, bookmarks, text and media messages to your SD card
Safe Web Surfing
Stay safe from phishing and malware while surfing the web
Theft protection for your android mobile
Locate lost or stolen device using GPS
Create and display message on screen remotely
Lock device and wipe content
Manage applications remotely
What's in this version of AVG Antivirus for Android:
– Lock screen message now appears only when set remotely on avgmobilation.com
– SMS permissions changed to improve scan and device remote control
– Antivirus Free – New security features
– NEW Scan Results page
– NEW TuneUp monitor device resources (Beta)
– Find My Phone improvements – locate using WIFI
– Device Shout- make your device play an alarm even if on silent mode
– New Lock Screen message to help the finder reach you
– New Advanced Scan settings
– SMS scanner improvements
– Data backup (beta) was removed
– Keep track of your 3G/4G data usage by getting notifications as you approach your monthly data limit.
– You can now also scan APK files straight from the file system.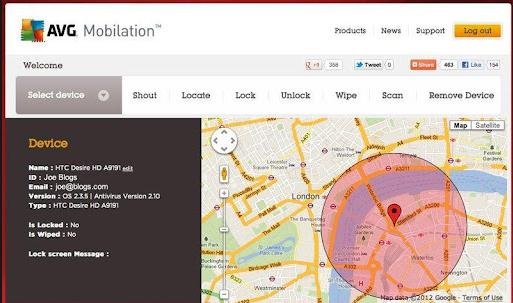 AVG Antivirus for Android is the best android App for anti-virus available free and is last updated on February 3, 2014 and is currently trending in Android Market under Productivity android apps and already has 100,000,000 – 500,000,000 installations.
This android app is rated 4.5 by 1,108,258 reviews in android market at the time of writing this post. Download the latest version this best android app for free from android market or download from the AVG Anti Virus App Site