ASTRO File Manager android application helps to organize your pictures, music, videos and other files on your android mobile for free. ASTRO File Manager android app has 20 million downloads on the Android Market and 200,000 reviews.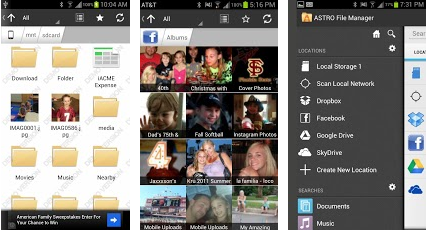 Feature of Astro File Manager Android App :
a. File management
b. File and/or app backup
c. Image and text viewers
d. Bluetooth, SFTP, Zip/ Tar, downloader
e It will also build your index whenever you do a search.
f. Search files, application manager, task manager, attachments and more…
Astro File Manager Android App allows you to easily organize all of your pictures, music, videos and documents. It also gives you the ability to stop processes that burn battery life and backup your apps in case you lose or change phones.
– After your first search, results are almost instantaneous across all indexed locations (mobile device, clouds, networked locations)
– If you are offline, you can still search for files that have been indexed.
– Eliminates redundant network calls in ASTRO, making some file search operations faster.
– Better file search, file browsing experience in areas with spotty or slow network coverage.
Updates in latest Version of Astro File Manager Android App:
– Click "My Files" for file management (copy/move/delete/etc) **
– NEW: Facebook Photo support
– New Picture Gallery
– Image Viewer enhancements including rotate picture
– SkyDrive, Google Drive on android, Dropbox support
– Home and Backup Directories now properly save in preferences.
– Added the ability to tap on the address bar and choose to set Home or Backup directory from there.
– Fix for supporting external SD cards for some ASUS tablets.
– Several minor bugs and tweaks have been implemented.
Previous Version :
– Added ability to download different themes
– Fixed Reset Directories so it works properly
– Fixed paste button disappearing for some users
– Fixed compressed folders so pictures can be browsed
– Tablet users can now set the external SD card and USB directories.
– Honeycomb android 3.0 tablet app
Important: Astro File Manager Android App gathers non-personal analytics (such as what functions are used the most) in order to better understand user behavior. If you do not want analytics, you need to buy the Pro Version.
Astro File Manager Android App is one of the Best Android Application for productivity. This free android application is last updated on February 28, 2014 & is currently trending under productivity android apps and has 50,000,000 – 100,000,000 installations since its launch.
This free android application is rated 4.3 with 467,522 reviews at the time of writing this post. You can download this free android app from Google play store.