Aquarium Live Wallpaper for Android is best android app for fish lovers. Download this android app for free. Aquarium Live Wallpaper for Android is a beautiful tropical fish tank live wallpaper for your android phone! Beautiful 3D fish and plants dress up your home screen, with gorgeous backgrounds and smooth motion.
Features up to 14 fish at once (all individually selectable from many different species!), multiple types of plants, two types of anemones, controls for overhead light and bubbler, selectable tank props, and a number of selectable backgrounds. Double-tapping the screen breaks out the fish flakes and feeds your little friends, tapping on a fish will cause him to run away, and tapping the glass will get their attention!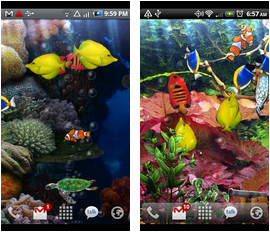 This android live wallpaper is not a movie but it takes advantage of OpenGL, and support both home screen switching and landscape/portrait modes. The full version of this android application has full settings screen. Select up to a dozen fish, customize plants, change tank toys, and more!
What's in this version of Aquarium Live Wallpaper for Android:
– New icon art, etc
– Multi-layer background
– Daydream support on 4.2+ devices!
– Now using OpenGL 2.0
– Better stability/performance
– Simulated scrolling on some devices
Aquarium Live Wallpaper for Android is last updated on 3 April 2014 and the latest version is 3.35 which requires ANDROID 2.1 and up. This is currently trending under wallpapers android apps and has 10,000,000 – 50,000,000 installations.
The app size approx 5.4 M and is a free android app. This android app is rated 4.0 by 152,481 reviews in android market at the time of writing this post. Download the latest version this best android app for free from play store.