Antivirus Free Android App features a complete mobile security package. This app provides you a real-time antivirus protection that keeps you safe from the latest mobile threats and viruses by cross-referencing new apps that are installed on your mobile device.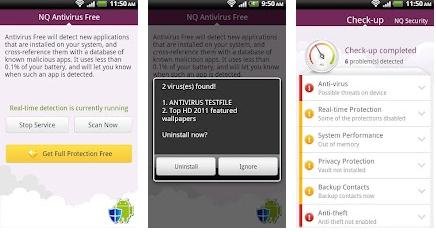 Features of Antivirus application :
a) Antivirus Free is battery life friendly and uses less of your device battery.
b) Complete Mobile Protection
c) Compatible with all the most popular mobile devices
d) Ensure that only trustworthy apps are installed
e) Keep your data safe
You can also download the Test Virus application to see how Antivirus Free maintains your security when a malicious app is downloaded. Antivirus Free's battery friendly system will give you comprehensive mobile protection while using less of your battery than other mobile security apps.
Antivirus Free Application by Creative Apps is one of the Best Android Anti Virus Apps for your android mobile. This free android application is listed under productivity apps in Google Play store & has 10,000,000 – 50,000,000 downloads. The latest version of this android app (version 6.8.78.06) was released by the developer on 3 April 2014 and requires ANDROID version 2.0 and up to be installed on your android device. This android app is rated 4.3 with 172,497 reviews at the time of writing this post.
This android app will require approx 4.3 M of free space on your device for installation. Download this best android app for free.