With more than 700 million downloads, Angry Birds is the most popular mobile game of all time. The original Angry Birds game was quite basic in its settings but has made the app such a craze and one of the best android app of all time.
Welcome to all new season called Piglantis, the aquatic wonderland where King Pig rules his tropical lagoon kingdom. Try flinging the birds underwater and defeat them.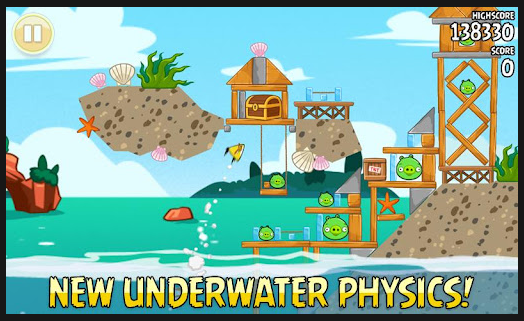 – 30 all new underwater levels
– All new water physics
– Explore the underwater ruins of Piglantis!
– Groove to the aquatic sounds of the lost pigilisation!
Also check out the other interesting version of Angry bird Android App :
– Angry bird android app
– Angry Bird Space App
– Angry Bird Cherry Pick Season App
– Angry Bird Seasons : Halloween Special
Angry Bird Android App – Piglantis is one of the Best Android App for your android mobile. This free android application is listed under arcade & action apps in Google Android Market. The app has 50,000,000 – 100,000,000 downloads since its launch. The latest version of this android app (version 2.4.1) was released by the developer on June 15, 2012 and requires ANDROID version 1.6 and up to be installed on your android device.

This android app is rated 4.5 with 497,984 reviews at the time of writing this post. This android app will require approx 23 M of free space on your device for installation. Download this best android app for free from Google android market or use the QR code on the left.