List of 5 Best twitter Android Apps for your android mobile and android honeycomb tablet. Twitter was founded in San Francisco and the service is now available in more than 20 languages. Get hooked to world's favorite micro-blogging platform from your android mobile.
Seesmic for Twitter : Seesmic for Twitter is one of the first Android apps to manage your multiple social networks in one place. Downloaded this top android app and experience a powerful and yet simple interface. Features of Seesmic Android app: * Full integration of Facebook, including managing and posting to administered Facebook pages * The one of the best Twitter App on Android, with all the features you need in a simple but powerful interface * Multiple Twitter accounts support * Cross-posting to multiple Twitter accounts and your Facebook account at the same time * Configure notifications for new messages…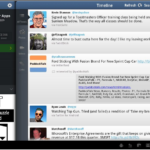 Twitter Tablet App : Twitter Application for Android Tablet (Tweetcaster for honeycomb android tablet) is the best android app to experience the full features of twitter on your android tablet. Download this free android application and keep tweeting. Twitter Android App allows to filter views of your timeline that allow you to only look at tweets containing photos, links or videos! Plus TweetCaster HD has all the features you've come to love on a fully tablet-optimized version. TweetCaster android app for tablet has all standard Twitter functions—reading timeline, viewing profiles, sending tweets, clicking links—plus: * Zip It – Zip annoying tweeters or keywords…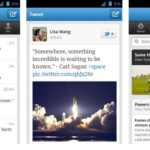 Twitter Android App : Twitter Android Application is the official android app for twitter. Download this best android app for FREE. Follow your interests: instant updates from your friends, industry experts, favorite celebrities, and what's happening around the world. Get short bursts of timely information on the official Twitter app. Real-time search reveals breaking news, while trending topics show what's happening now around the world. Reading tweets is easy in a bunch of places on your phone. Quickly access your timeline with the home screen widget, view a tweet location on a map, and see your friend's latest tweet in your phonebook, GoogleTalk…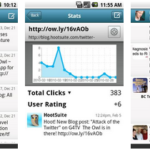 HootSuite Android App : HootSuite for Android is one of the best android app that helps you update your social networks, monitor conversations, and track results all from your Android™ mobile. HootSuite for Android: Manage Twitter, Facebook, and Foursquare from one place. Manage multiple social networks on the go with HootSuite for Android. Now supports multiple Twitter, Facebook, and Foursquare accounts. Simple yet elegant and powerful, HootSuite for Android™ allows you to send updates to Twitter and Facebook from virtually anywhere. Plus, you can easily manage campaigns, schedule updates, and even view click-through stats for your social networks.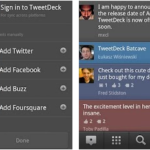 TweetDeck Android Application : TweetDeck Android Application allows you manage multiple twitter accounts without switching between them. You can view all of your accounts at once and cross-post Tweets to different accounts at the touch of a button. TweetDeck android app also allows you to post to your other social network accounts like Facebook & Foursquare accounts as well. TweetDeck is one of the best android application now acquired by Twitter Inc for staying in touch with what's happening on Twitter, Facebook, Foursquare and Buzz. TweetDeck makes it easy to stay up to date and organized no matter where you are.