3D Diwali live wallpaper is an interactive 3D Live wallpaper featuring animated Diya, countdown to Vagh Baras, Dhan Teras, Kali Chaudas, Diwali, Hindu New Year and Calendar New Year.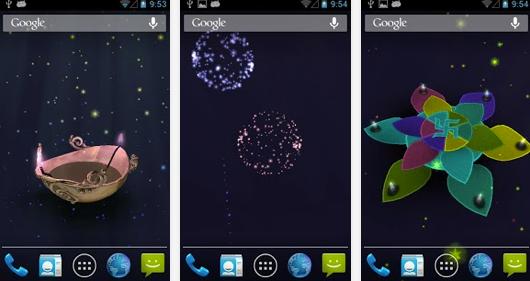 This wallpaper contains lots of customisation options.
– Diya Scene with changing diya color and falling stars.
– Change Diya flame colors
– 3D Fireworks Scene
– Countdown Scene to count remaining days for Diwali.
– Animated Rangoli Scene with changing colors.
– Choose background color.
– Choose different types of lighting like smooth lighting and flare lighting.
– Choose lighting color
– Select auto change time for scenes
3D Diwali Live Wallpaper is one of the Best Android Application for indian festivals on your android mobile. This free android application is last updated on September 28, 2013 by the developer. The latest version of this android app is 1.7 and requires ANDROID version 2.1 and up to be installed on your android device.
This best android app is currently trending in Android Market under casual android apps and has 50,000 – 100,000 installations since its launch. This android app will require approx 17M of free space on your device for installation. This free android application is rated 4.7 in google android market at the time of writing this post.
You can download this free android app from Google play store.