Fast Facebook for android ICS (Android 4.0.X) is one of the fastest client for facebook on android. This app is low on battery and memory consumption as it is active only when you want ensuring low bandwidth consumption and a unique user interface.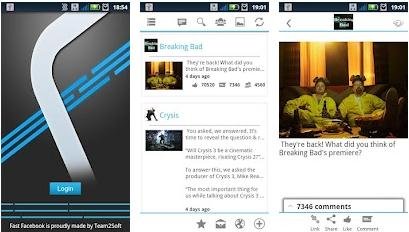 Features of Facebook ICS Application :
– Comment, share and like
– Real-time Home feeds with cached images (low bandwidth utilization!)
– Write new status
– Read notifications
– Facebook Chat (also check out top android apps for chat)
– Share contents from other android apps
– Access to news, status, photos, links, videos
– Search friends, people, pages and everything else

– Read your private messages
– Add and take Photos
– Continuous photo upload trough camera
– Add locations (check-in)
– Widget and quick link
– View Albums and Galleries
Additions in the latest version :
– Endless load in the page, user and group views
– Description to news details view
– Progress indication to update status view
– Location info in each post
– New login system
– Added multi user access (up to 6 users)
– Migration to new Facebook SDK 3.0
– Added dynamic list for user online in chat
– Added themes for status update view
– Added widget preview
Updates in the latest version of Facebook tablet app:
– Improved memory management
– Improved picture loader
– Added support to Google Nexus 7 and other 40 devices
– Fixed news reading gestures when in landscape mode
– Conformed to Facebook September changes
– Added album selection when upload a pic inside the app
– Added link manager in order to open a link with the chosen external app
– New action bar
– Improved album management
– Fixed YouTube link
– New function on main feed to like, share and open url directly from the story
– Fixed layouts bugs
– Fixed a bug about picture loading
Fast Facebook for android ICS is one of the Best Android ICS App for your android mobile. This free android application is listed under social android apps in Google play Market. The app has 1,000,000 – 5,000,000 downloads since its launch. The latest version of this android app (version 1.9.9.2) was released by the developer on May 20, 2013 and requires ANDROID version 2.2 and up to be installed on your android device.
This android app is rated 3.9 with 12,302 reviews at the time of writing this post. This android app will require approx 2.9 M of free space on your device for installation. Download this best android app for free.

You can also download the official facebook for android app or check out the 5 best android apps for facebook.