Dark Legends Android App is a free vampire horror adventure and 3D Massively-Multiplayer Online Role Playing Game (MMORPG). In this dark, online world you'll fight alongside millions of players from around the world in co-op or pvp action. Download this best android application for free and sink your teeth into the mobile and desktop vampire world Dark Legends for FREE!

Storyline of Dark Legends Android App :
Since time immemorial, the Vampire Nation has survived in the shadow of human civilization as a rumor and a whisper. A new light, fueled by technology and mass communication, has appeared and revealed the true existence of vampires to the world at large. Now, the Vampire Nation is desperately hunted by fearful humans that have turned to technology and the Dark Arts.
In Dark Legends Android App, YOU rise as part of the Vampire Nation and fight to survive against a world that has turned against you! Use your supernatural strength, incredible speed, and powerful fangs to enforce your will.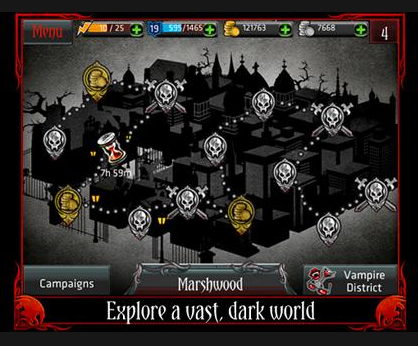 What's in this version of Dark Legends Android App:
+ Added support for signing in with a Google Account
+ Polished flow for new users
+ Increased energy point drop rate within 3d missions
+ Fixed players sometimes joining an already partially completed tutorial missions
+ 3D audio now attenuates properly
Dark Legends Android App plays over virtually any connection: wireless, Edge, 3G or 4G connections and most mobile devices. Additionally, all players connect to the same game world and play on a single server set.
Dark Legends Android App is one of the Best Android Action Application for your android mobile. This free android application is last updated on April 13, 2012 by the developer. The latest version of this android app is 0.9.1.3 and requires ANDROID version 2.2 and up to be installed on your android device. This best android app is currently trending in Android Market under arcade & action android apps and has 100,000 – 500,000 installations since its launch. This android app will require approx 39 M of free space on your device for installation. This free android application is rated 4.7 with 4,782 reviews in google android market at the time of writing this post. You can download this free android app from Google android market.