Atomic Bomber Android App lets you take control of the hypothetical 1970 Soviet invasion of Europe. Download this android application and drop atomic bombs.
Story behind Atomic Bomber Android App acccording to developer's site:
The NATO battle plan was to use tactical nukes during a Soviet invasion because the Soviet ground forces massively outnumbered NATO. In the game, you will face Soviet anti-aircraft artillery (the ZSU-57), SAMs (the SA-2), and fighters (the MiG-21). To keep the game interesting, you have to just avoid the fighters; they're invincible. In reality, (also according to Tom Clancy), NATO expected to have air superiority during a Soviet invasion, so the Soviet fighter threat in the game is probably unrealistic.
How to play Atomic Bomber Android App :
Fly a NATO ground-attack fighter to repel a Soviet invasion. You can drop both conventional and nuclear bombs.
The bombs fall with realistic physics. Dodge MiGs, guided missiles, and anti-air guns. Atomic Bomber Android Application is very simple game and with simple graphics. Playing it on your android tablet is challenging due to the amount of space to fly in.
What's in this version:
-Performance improvements
-New weapon: cluster bombs! Every 5th wave is now a cluster bomb wave.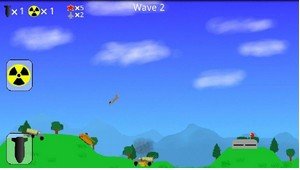 Atomic Bomber Android App is the Best Android Application for air fight on your android mobile. This is a free android application is last updated on December 29, 2012 by the developer. The latest version of this android app is 8.4 and requires ANDROID version 2.1 and up to be installed on your android device. This app is currently trending in Android Market under arcade & action android apps and has 1,000,000 – 5,000,000 installations since its launch. This android app will require approx 882K of free space on your device for installation. This android app is rated 4.5 with 26,282 reviews in google android market at the time of writing this post. You can download this free android app from Google android market or use the QR code on the left.