Scrabble Cheat Android Application is one of the Best Android Application for generating words for scrabble, words with friends and scramble word app on your android mobile.

Features :
-New overlay feature, do not have to leave game.
-Does not rely on an internet connection.
-Fully functional, no restrictions.
-TURN ON/OFF FEATURES FROM SETTINGS SCREEN
-Make sure you check out the search settings before using
-Long press a word to access dictionary
-optional transparency see game board through app!
-multiple search settings (check settings screen)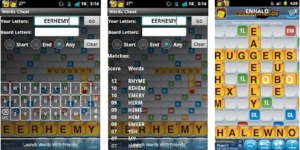 This is a FREE cheat app, designed for Words with Friends, wordfeud, scrabble android app, scramble but works for all scrabble and word games. It contains all the same words as words with friends and allows for blank tiles.
This free android application is last updated on April 11, 2012 by the developer. The latest version of this android app is 5.2 and requires ANDROID version 1.6 and up to be installed on your android device. This best android app is currently trending in Android Market under brain & puzzle android apps and has 1,000,000 – 5,000,000 installations since its launch.
This android app will require approx 927K of free space on your device for installation. This free android application is rated 4.5 with 3,375 reviews in google android market at the time of writing this post. You can download this cheat android app from Google android market.