Google is officially putting the Android Market name to rest. Starting today, all of Google's digital media services have been rebranded as Google Play. Google has moved android to the cloud as a whole, and establishes an umbrella brand for the diverse content sold by Google. For example, its Books, Music and Videos apps will now become Play Books, Play Music and Play Movies, while the Android Market itself will called Play Store.
If you open google market on your mobile you will see the following screen. Accept the terms and you would land on the Google play page. This update is for devices running Android 2.2 or higher, and users on other devices will continue to have the same access to your apps as before.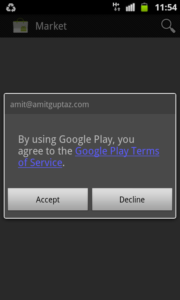 What is Google Play :
a. One-stop shop for all your favorite entertainment. With over 450,000 apps, millions of songs and books, and thousands of movies, Google Play has something for everyone.
b. You can read, listen and watch all your favorite content anywhere you want. No software required and no wires or syncing needed, and the best part – Google Play cloud is free to use.
c. You can easily share posts about your favorite books, music, movies, games or apps to your circles on Google+, email, or text message in a single click.
d. With music on Google Play, you'll get personalized recommendations based on what you listen to most.
e. There are hundreds of free songs and millions more to buy on Google Play. The music you choose is automatically stored in your Google Play music library and instantly ready to play on your computer, Android phone or tablet.
f. Access your Google Play music library anywhere, anytime – no syncing, no wires. Stream music instantly on the Web and listen on your Android phone or tablet
g. Sharing is caring. When you buy music on Google Play, you can share a free listen with your friends on Google+.
h. Personalize your phone with live wallpapers, ringtones, and widgets. With over 450,000 Android apps and games your phone truly is your mobile entertainment system, organizer and portable computer all wrapped in one.
i. Google Play including HD titles, new releases, award-winning films or your favorite classics. Whether you're in the mood for comedy, drama, animation, action or a documentary, there's a movie that's right for you.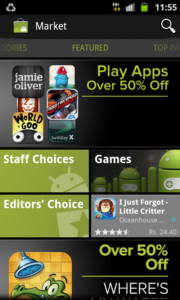 To mark the occasion, Google has announced a promotional "Seven Days to Play" sale, which will offer shoppers with discounted apps, books, movies and music throughout the week. Google play is currently offering 50% of the paid apps.