Download Whisk Android Application and discover a easy way to purchase ingredients needed for the recipes you want to cook. Discover recipes through the app and in a few clicks get the ingredients delivered to your door through ASDA, Tesco, Waitrose or Ocado .
Features of Whisk Android Application :
➞ Search from an ever growing collection of recipes from a variety of food websites across the web.
➞ Browse our hand picked selection of recipes, from quick and easy or healthy meals to dinner party food and decadent desserts.
➞ Choose which supermarket to buy from and your shopping list is automatically filled with the store items you'll need.
➞ Decide how many portions you need and Whisk scales the ingredients accordingly.
➞ Pick exactly which products you prefer and adjust your shopping list if you already have certain ingredients.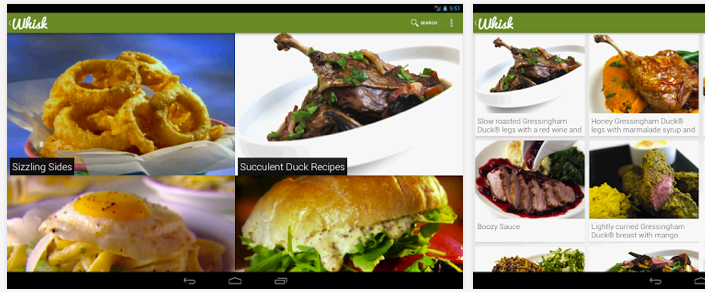 ➞ Add recipes to your shopping list to order right away or bookmark them for later.
➞ Buy your shopping list from supermarkets including Tesco and Waitrose and get everything delivered right to your door.
➞ Take the list to the supermarket and check items off as you shop.
– Added ability to disable push notifications
– Faster explore section
– Much more explore section content
Whisk Android Application is one of the Best Android App for cooking and shopping on your android mobile. This free android application is listed under shopping apps in Google Android Market. The app has 50,000 – 100,000 downloads since its launch.
The latest version of this android app (version 1.4.5) was released by the developer on 5 January 2014 and requires ANDROID version 2.2 and up to be installed on your android device.
This android app will require varied free space on your device for installation depending on device & android version. Download this best android app for free from Google play store.