Speakingtree.in is India's first spiritual social network, where over 5,00,000 spiritual enthusiasts have embarked on their spiritual journey under the guidance of world-renowned spiritual masters like Sri Sri Ravi Shankar, Deepak Chopra, Sadhguru Jaggi Vasudev, Andrew Cohen, Maulana Wahiddudin Khan. Download the official android app for free and connect to your spiritual self. Get connected to like minded people and get access to and great spiritual content. Get spiritual thoughts and motivational quotes every morning.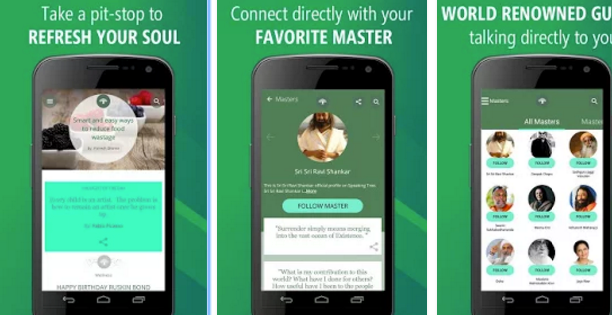 Features of Speaking Tree Android App:
– Get spiritual thoughts
– Daily motivational quotes
– Watch Satsangs Videos
– Express your views & thoughts
– Share your experiences
– Connect to spiritual gurus for inner peace
– Learn to meditate with Hindu gurus, saints, spiritual teacher's
– Learn meditation techniques
– Inspirational & Spiritual Quotes
– Religious verses of spiritual leaders
– Login using facebook & twitter apps and share the content with your friends and network
Some of the masters on speakingtree Spirituality app are :
– Sri Sri Ravi Shankar
– Deepak Chopra
– Sadhguru Jaggi Vasudev
– Andrew Cohen
– Maulana Wahiddudin and many more
– Customize alerts as per your convenience.
Speaking Tree Android App is one of the Best Android App for spirituality & Spiritual thoughts on your android mobile. This free android application is listed under lifestyle apps. The latest version of this android app (version 2.3) was released by the developer Times Mobile limited (Developers of Times of India Mobile app – News App, Economic times Mobile app, Gaana mobile app – free Music on 4 July 2016 (currently at 500,000 – 1,000,000 downloads)
What's new the latest version of app
1.You can Login directly with your email id without any hassles.
2.You can enjoy your Favorite blogs at your finger tips as we have synced your Web Spiritual Diary to your App Account.
3. You can access all the Master content from their profile page itself.
4. Seeker profile pages also showcase the blogs written by them.
5. The new version showcases all the Speaking Tree Apps on one platform.
6. App notifications now comes with attractive visuals. (PS: You can easily turn them off!)
The App allows you to watch satsang videos, browse through good thoughts, read inspiring spiritual quotes, express views, share experiences and connect with renowned Masters to learn more about inner peace, life, spirituality and mythology.
This android app will require approx 6.9 M of space on your device for installation. Download this best android app for free from Google play store.