Get the best-of-the-best recipes, secrets and tips, all inspired by your beloved Red Plaid cookbooks that too absolutely FREE! Get access to more than 500 recipes, with photos of every one.
Features of Must Have Recipes App :
✓ Get 500+ delicious recipes FREE, each with a gorgeous photo
✓ See 75 how-to videos and step-by-steps that guarantee success in your kitchen
✓ Share recipes by email and Facebook
✓ Add personal notes and substitutions to any recipe, so every dish suits your family's preferences
✓ Organize your favorites into groups in your recipe box
✓ Personalize the app with bonus chapters (100+ recipes each) for just 99¢
✓ Create shopping lists for different stores or special occasions, and check off ingredients as you add them to your shopping cart
✓ Find just what you're looking for with advanced browsing capabilities
✓ FREE bonus recipes from our sponsors
✓ PLUS, for a limited time, when you claim your FREE MUST-HAVE RECIPES app, we'll also treat you to our latest print issue of Better Homes and Gardens Magazine … it's our Free Gift to you!
Must Have Recipes Tablet App is one of the Best Android App for cookery on your android mobile. This free android application is listed under lifestyle apps in Google Android Market. The app has 100,000 – 500,000 downloads since its launch.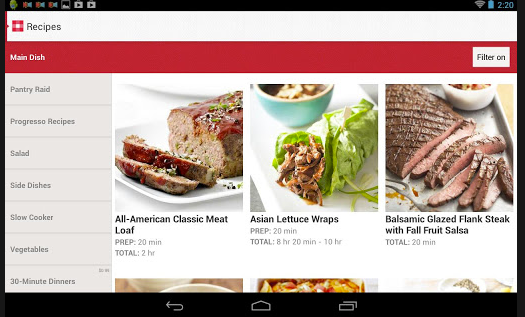 The latest version of this android app (version 1.0.2) was released by the developer on August 9, 2013 and requires ANDROID version 2.3.3 and up to be installed on your android device. This android app is rated 4.1 with 492 reviews at the time of writing this post with 1,000,000 – 5,000,000 downloads. This android app will require approx 3.4 M of free space on your device for installation. Download this best android app for free from Google android market .