My Tracks records your path, speed, distance, and elevation while you walk, run, bike, or do anything else outdoors. While recording, you can view your data live, annotate your path, and hear periodic voice announcements of your progress.
With My Tracks, you can share your GPS tracks and stats online:
– Via Google+, Facebook, or Twitter
– Using Google Maps, Google Fusion Tables, or Google Docs
– As a GPX, KML, CSV, or TCX file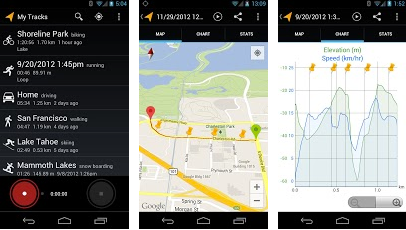 My Tracks uses the GPS sensor in your device to record geographic and velocity statistics, but the app also syncs with third-party biometric sensors, including:
– Zephyr HxM Bluetooth heart rate monitor
– Polar WearLink Bluetooth heart rate monitor
– ANT+ heart rate and speed distance monitors (these require an ANT+ compatible phone)
Also check out the other Google official apps :
– Google Maps android Application
– Google Analytics Android App
– Google Plus Android App
– Google Drive Android App
– Gmail Android App
– Google Earth Android App
– Youtube Android Application
My Tracks android App is one of the Best Android App for fitness your android mobile. This free android application is listed under fitness & heath apps in Google Android Market. The app has 10,000,000 – 50,000,000 downloads since its launch. The latest version of this android app was released by the developer on August 9, 2013 and requires ANDROID version 2.2 and up to be installed on your android device.
Updates in the latest version includes :
– new location provider for better accuracy and battery usage
– automatically detect walking, biking, and driving
– new stats view
– new landscape view
– select multiple tracks
– merge tracks and play them in Google Earth
This android app is rated 4.4 with 80,812 reviews at the time of writing this post. Download this best android app for free from Google android market .